Hi sasajuric, any chance of a fresh promo code?

Don't forget your forum discount

Thanks Aston e many many thank you sasajuric
50% was a great discount!! Purchased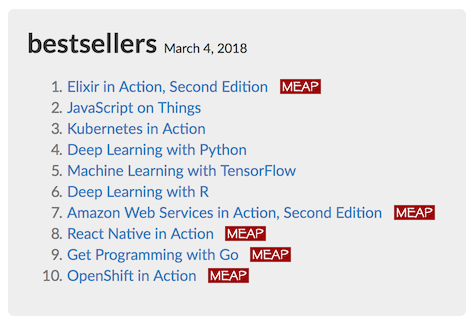 Our discount is for ebooks only

Right now you can get the eBook for $19.99
Then https://www.manning.com/ebooks:
pBook Upgrade! If you own a Manning eBook you can upgrade to the pBook at any time for only $12 + shipping. Simply write to support with your order number if you still have it. If not, no problem: just tell us which email address you used to purchase the eBook and we will send you an upgrade code. Upgrades are only available to original customers who purchased the eBook at manning.com, and cannot be combined with discount offers.
Now you may want to get clarification from support@manning.com on the last part if having a 50% off eBook voids that offer. My hunch is that they would rather have the sale now.
The alternative is to hold off entirely and wait for one of their 50% sales that include pBooks (which include the eBook automatically) - without checking I'd say that happens at least 3 - 4 times a year (possibly more often).
If you subscribe to their Weekly Newsletter you should be notified of the big sales (Deal of the Day is a bit noisier). Alternately follow https://twitter.com/ManningBooks (which is even noisier - I personally find it less useful).
What is the code? (your screenshot isn't very readable).
I tried to use wm042918lt and wm042918it but failed.
It worked for me just now using wm042918lt
I actually got it already! Reading through it now