Hey all!
I've got a phoenix server running 4 endpoints using main_proxy to route to them. Running OTP 26.0.2, Elixir 1.15.2, Phoenix 1.7.6 & LiveView 0.18.18. The server itself is behind nginx. It's running in a docker container via dokku, and deployed via mix not a release.
Websocket connections are accepted for LiveView on 3 of the endpoints. The remaining endpoint accepts websocket connections for iOS clients.
I've been having issues recently where I'm told that sometimes the iOS clients aren't syncing data (which is what they do when they connect to a socket, then to the sync channel).
Having a look at phoenix_live_dashboard over time, it seems that the number of sockets keeps increasing.
After boot the server has about 330 sockets. Fast forward 2 days and there's over 2000. It's expected that more sockets will be used up as more clients connect. But they should also disappear eventually.
Having a look at each of these sockets I have quite a number of them that look like they're orphans — but I'm not sure if this is normal

. This is what I mean:
There are currently a number of connections with 3.1kb sent and between 4kb and 13kb received. This doesn't increase:

Here's the detail: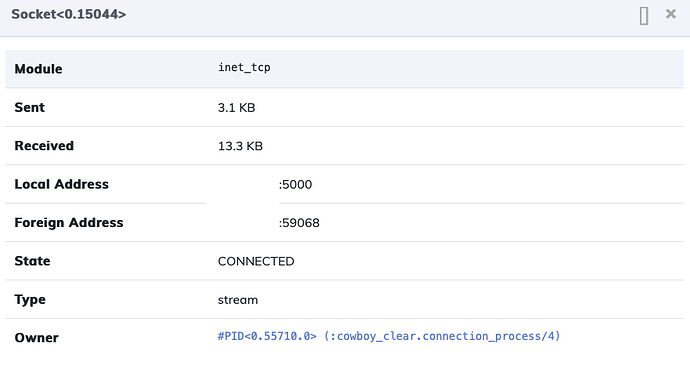 Clicking into the owner PID shows no monitors and nothing monitored by: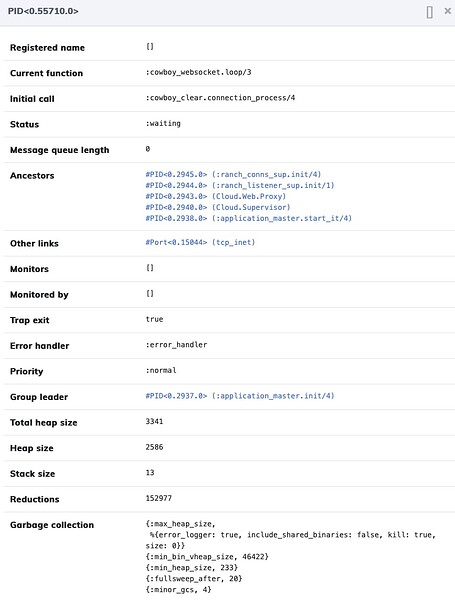 My question is — is this normal to have these? If not, has anyone got any ideas on how I can go about figuring out what's causing them and ultimately how to ensure they don't occur?
Thanks!