here's the landscape of "language refugees":
I think his alogo might need some work: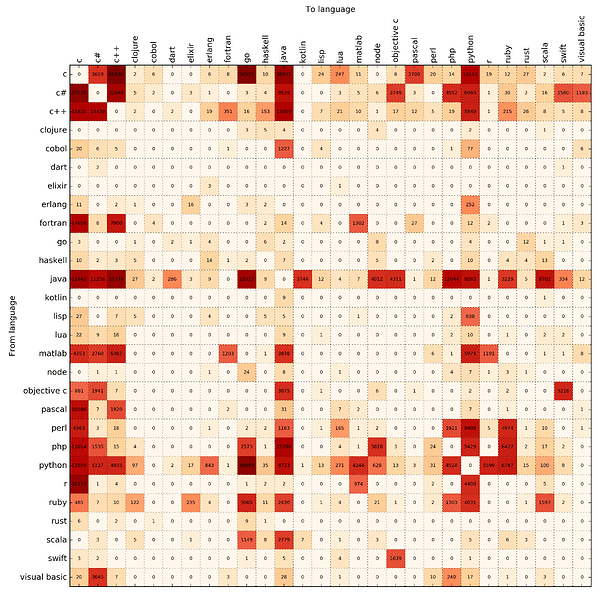 I haven't witnessed anywhere near that amount of Rubyists (that I know) move to languages like Go, PHP, Python or Java - the opposite perhaps!
The single biggest jump I've seen, where people have gone from Ruby, is to Elixir. In my experience anyway.
I've read quite a few "We were using Python/Ruby but now we use Go because it's faster and as high level enough" posts, so I don't really see the controversy there. With that said, the fundamental way of finding these numbers is flawed, as it doesn't take any of the context behind the search term into account. A blog post stating "Moving from Haskell to Python is pointless, as Haskell is faster and as terse" would likely count as a move from Haskell to Python in his numbers.
While this is an interesting way of representing language "immigration", I don't think that the used sampling method results in a data set that is a good representation of the population: For instance, if it is hard to migrate from X to Y, there might be much more articles/question+answer pages about that. And many pages like "why we did not move from X to Y" are likely to be caught under the "move from X to Y" filter as well.
Yeah using search results or stack overflow questions or anything of the sort will not be accurate due to some languages have more questions and talk than others that differ a lot from their usage. Fun to look at post though. ^.^