phoenix 1.6.2 and phoenix_live_view 0.17.5
I have an issue in reliably getting the appropriate LiveComponent rendering to occur when changing a schema value in the DB via Repo.update and immediately re-rendering from a Repo.all DB query. The re-render intermittently works properly, but mostly does not, primarily when changing a class struct archived value back to its default false value. Changing selected state does not have the issue.
I first thought that the DB query was returning old values, since the query occurred immediately after the update. Refreshing the page always results in correct rendering.
I exposed the modified struct values in the UI for debugging purposes, and logged the query results to confirm that the DB returns the proper data.
The images below show default state, then changing archived state to true, followed by changing archived state back to false but the archived LiveComponent is rendered rather than the default. In addition, intermittently, the default LiveComponent is rendered when the archived state is set to true. The DB query provides a sorted response, with archived components at the bottom.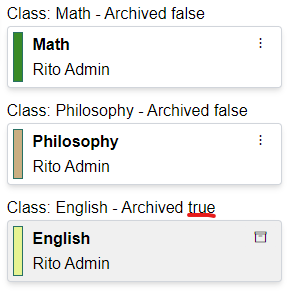 Here is the for comprehension code from a HEEx file, for rendering default, archived, and selected states (and displaying archived state for debugging purposes). Note, the selected state always renders properly.
        <%= for class <- @classes do %>
          Class: <%= class.title %> - Archived <%= class.archived %>
          <%= if class.archived do %>          
            <.live_component module={RitoWeb.Components.ArchivedClass} id={class.id} class={class} user={@user} username={@username} color={class.color_code} back_color="#f0f0f0" />
          <% else %>
            <%= if Rito.Util.class_selected?(class.id, @selected_class) do %>
              <.live_component module={RitoWeb.Components.Class} id={class.id} class={class} user={@user} username={@username} color={class.color_code} selected="true" back_color="#e7facc" />
            <% else %>
              <.live_component module={RitoWeb.Components.Class} id={class.id} class={class} user={@user} username={@username} color={class.color_code} back_color="#fff" />
            <% end %>
          <% end %>
        <% end %>