Hi Phoenix ppl,
I have a separate notifications service, and for some time now I've simply been pushing all the arguments it needs over to the service including the URLs it needs.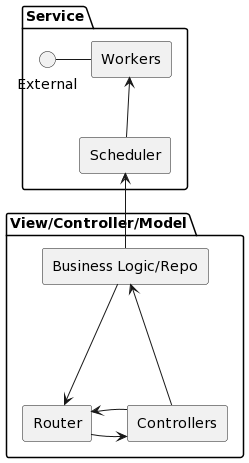 It simplifies dependencies, but it means that the web service had to gather all the information needed according to the whims of whatever the notification templates needed. It also meant that the data could be stale by the time the notification was rendered, and this arrangement has fallen apart now that I want some notifications to be polled instead of triggered.
Recently I've refactored to the notification service to pull the information it needs from the database, but it also needs to generate the URLs. This causes a cycle with the business logic in the web service needing to trigger new notifications, but also the notification service needing access to the business logic, data model and router in the web service.
My solution to this is to trigger the notifications service at the API/controller level (probably where it should have been all along), and to move the business logic and data model out to its own dependency. But I think I also need to clone the url helpers of the router as it depends on the controller creating another cycle – right?
It's not a huge deal, as any inconsistencies between the two could be caught in unit tests, but the redundancy does seem like a place for bugs to emerge… and there might be a better solution?
I'm thinking this is a common problem as projects grow, and I'd be keen to hear how other people have tackled this problem. Thank you.