Hello,
In my application one can register an organization, and users within an organization. A user can also be part of different organizations. But there are different kind of users among an organization such as providers, assistants, …
I could simply have a joint table between organization and users and have a field in the users table letting me know what type of user it is ("assistant"/"provider"); however these different users have a set of fields specific to them. That would lead to many columns with null values. Also, for example providers have other links to other entities.
Here is then how I'd ideally conceptualize the relations in the database: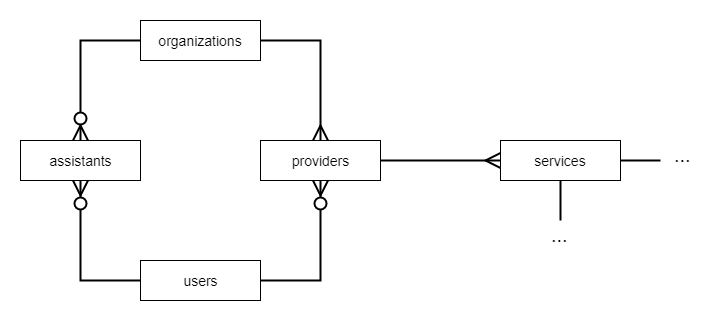 An organization has many providers and an organization may have many assistants as well.
A provider and an assistant have many common fields (e.g. account-specific fields such as email/password/…) which I'd put in the common users table,
and have a set of different fields as well, which I'd put in the joint tables (assistants/providers).
A user may be part of many organizations.
A provider has also a relation to other entities; for example a provider has a set of services he provides.
In Ecto, I would have a schema User, Provider, Assistant, Organization and Service.
Even though these seem many_to_many relations, I guess I can't work with many_to_many relations in Ecto schemas in this case, but rather will work only with has_many and belongs_to. However, it's weird to write in my Ecto schema: a user "has many" providers; a user "has many" assistants; it's very misleading. It's rather: a user IS many providers; a user IS many assistants.
This will also result in a user structure being an assistant or a provider (these will be lists as a user may be multiple providers for different companies); this is known by checking if the lists user.assistants or user.providers is empty. It's not very readable I guess.
Thank you for any advice.
Note that I'm really a beginner with Ecto/Elixir yet.