Hi,
I'm a newbie to Elixir and OTP and trying to learn them by building a small testing tool. It is a tool that regularly make some REST call to my service to check their SLA ( in this case, response time). Here is the supervision tree that I come up with.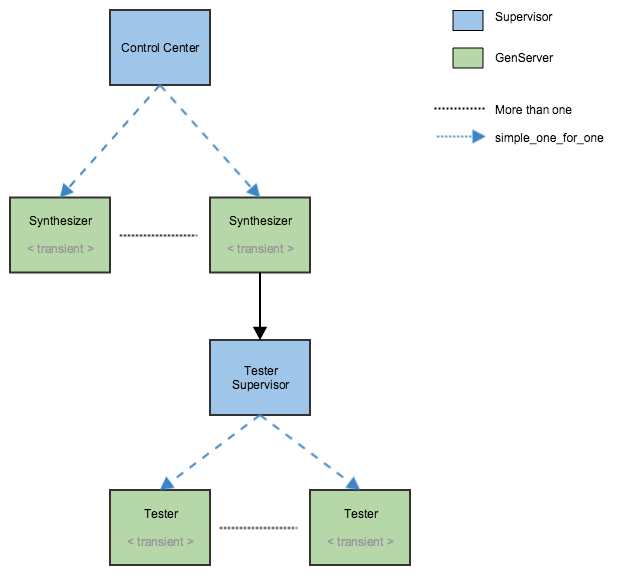 Quick summary on the roles of each process.
Control center is the brain and it will spawn a synthesizer for each system that I want to test

Synthesizer is responsible for scheduling new Test (by messaging Tester Supervisor to spawn new Tester process) based on some schedule (for example one test per minutes)

Tester Supervisor is responsible for spawning new tester and manage their lifecycle

Tester is the process that will make some rest calls and measure the response time.
I ran into couple things that I'm not sure and would be great if someone can give me some advice.
Am I structuring the process right? I am not sure when to use Supervisor and when to use GenServer and this is what I come up with the best of my knowledge.

From my understanding, I need to explicitly make a call to Supervisor.start_child/2 when I want to spawn a new child supervised using simple_one_to_one strategy. But where should I call this? From different online tutorials or docs, I can see that there're different approaches. For example, some will suggest adding a new client API in the supervisor, something like create_child and in that call, invoke Supervisor.start_child/2. Others will add a new client API in the child, like create, and invoke Supervisor.start_child/2 and refer to the Supervisor using Module name. Is there a convention in Elixir for this? or it's really up to the implementer? If it's the later one, anyone can share some pros and cons of the two approaches?

How can I unit test those process (Control Center, Synthesizer, etc)? They are all wired together and how can I test each of them individually? ( for example, if I write a test to verify synthesizer is messaging Tester Supervisor correctly, it will involve every process, from Control Center coz it spawn Synthesizer, to Tester process coz I want to make sure new Tester processes are spawned correctly).
Thanks for reading this long posts and would be great if someone can give me some advice