Hi everyone,
I'm currently testing https://bit.io serverless postgres service, since its serverless connections are not expected to last long (as mentioned in their docs) and expect clients to use a connection pool to restart connections as needed.
So Ecto.Repo's default pool seems to work fine, however when the connection is closed from the DBs server side:
Postgrex.Protocol (#PID<0.2701.0>) disconnected: ** (DBConnection.ConnectionError) ssl send: closed

Oban seems to create a new connection without killing the last connection process, increasing resources consumption.
In this example I have a Repo config with 10 for the default pool.
  config :my_app, MyApp.Repo,
    url: database_url,
    pool_size: String.to_integer(System.get_env("POOL_SIZE") || "10"),
    ssl: true,
    ssl_opts: [
      verify: :verify_peer,
      cacertfile: CAStore.file_path(),
      server_name_indication: to_charlist(database_host)
    ]


And as you can notice, there's over 60 processes running now:
If I open any of those this is what I see: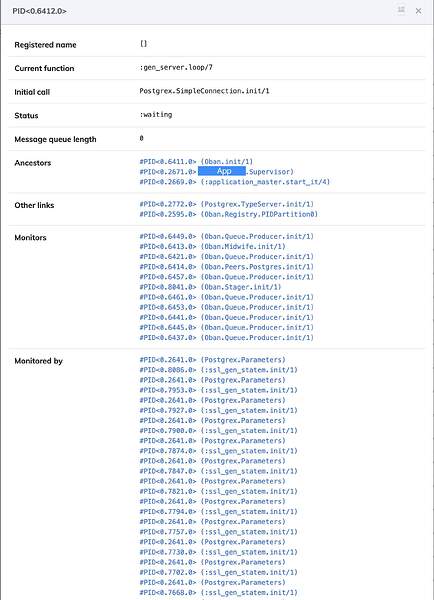 Is there any Oban configuration I'm not aware of to fix this specific case that anyone would suggest?
Or is this an issue with Oban's connections handling itself?
Thanks.