I am trying to serve images that the user uploaded. then in an "overview page", i want to put thumbnail-ish images in the html, which load sometimes and sometimes not.
Quick demo with a gif -> gif doesn't work apparently…: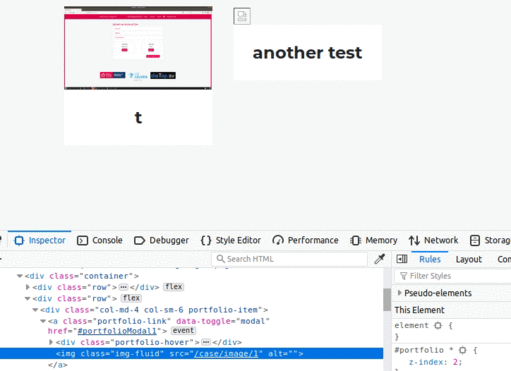 gif just emphasizes that when you refreshes, sometimes image 1 doesn't work and the other one works, sometimes they work both and sometimes none.
When I go to the image link (/cases/image/1 for example), it loads every time. It is only on the page in the gif that it fails. When I get the failed image icon, the following error occurs:
[info] GET /case/image/2
[error] #PID<0.6379.0> running FirsttimerightDashboardWeb.Endpoint (connection #PID<0.6378.0>, stream id 1) terminated
Server: localhost:4000 (http)
Request: GET /case/image/1
** (exit) an exception was raised:
    ** (File.Error) could not read file stats "uploads/images/1-user_upload_3.png": no such file or directory

Yet the file is there. The information in the database is also correct (as far as i know of course…).
DB output:


The images are also in the folder with the correct name.
Also tried with ctrl + r/f5 force purge cache reload, though it doesn't seem to help.
Thank you in advance.