Prometheus metrics and Grafana dashboards for all of your favorite Elixir libraries
I have been putting off creating an ElixirForum post about PromEx until it hit the coveted 1.0.0 mark. But that time has finally come! PromEx is a metrics framework that ties together all of the BEAM Telemetry libraries in a simple to use package. It comes with plugins for all of the popular Elixir ecosystem libraries including Phoenix, Ecto, LiveView, Oban, the BEAM itself, and may more coming soon. Each PromEx plugin also comes with an accompanying Grafana dashboard which PromEx will automatically upload for you on application start. PromEx will also annotate all of your PromEx Grafana dashboards so that you know when application instances come up and go down: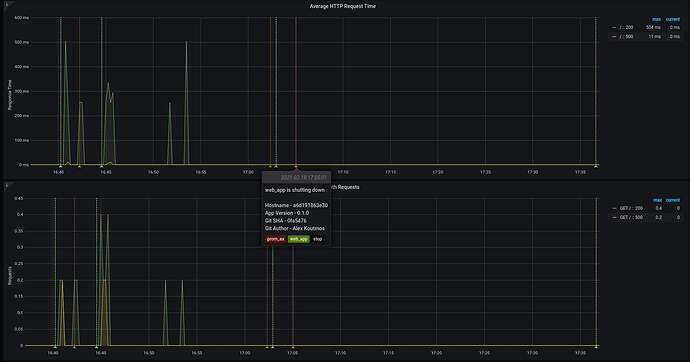 PromEx is extensible in that it also allows you to write you own plugins and dashboards to support gathering metrics specific to you application.
Check out the thorough Hex Docs to learn more about PromEx Contents — PromEx v1.0.0
And Check out the snapshots of the dashboards if you are curious what you get out of the box Dashboards Screenshots — PromEx v1.0.0