I've been breaking an app up into smaller apps inside an umbrella project, (using ideas from Domain Driven Design diagram for Umbrella app and With Phoenix on a umbrella we lost the ability to join several functions together) but breaking them up by feature, so a 'Sales' app', 'Accounting app' etc and I now need to communicate between them.
There is a GraphQL interface that runs on Phoenix and Absinthe, and my original thought was to just call the modules directly, so I could call App.Feature.Sales.OrderService.place_order() for instance, but that then makes it quite tightly coupled.
So last night I was thinking I could perhaps use a GenServer in each 'Feature app' and then use that as the API that the resolvers use to communicate with the 'feature apps'. In fact, the other 'feature apps' could also use this to communicate between themselves.
Something like: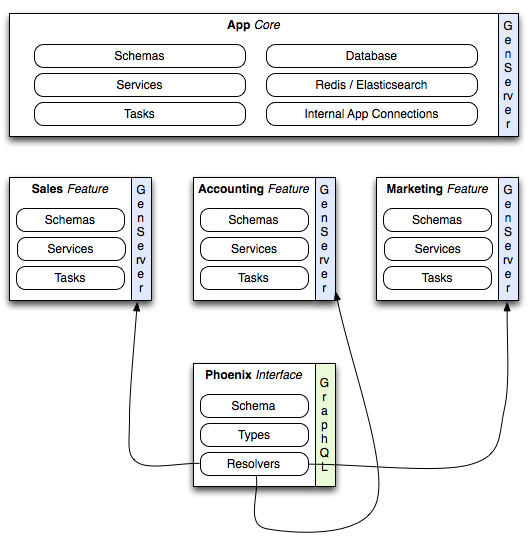 Is this a good use of a GenServer, or is it the wrong way to approach this?