Hello Elixir Forum !
I have an existing web app that I'd like to integrate within a new phoenix project. To provide context for those who might be familiar with it, that other app is JupyterHub, a multi-user server for the popular Jupyter data-science platform. But what I'm going to describe shouldn't be specific to that particular app. In a way what I'm trying to achieve is the inverse of this : PASETO vs JOSE (JWT - JSON Web Tokens) (protocols/standards for managing user sessions) I want to manage user accounts and login in my phoenix app and have my users be logged in automatically to the third party app.
I figured out how to control the login/logout process within the third-party app. It's quite flexible, it could be based on calling an external service or on parsing a cookie. Both apps will be served under the same domain so it's possible to share cookies between the two. In fact I managed to hack something together using Guardian and JWT. I works like this: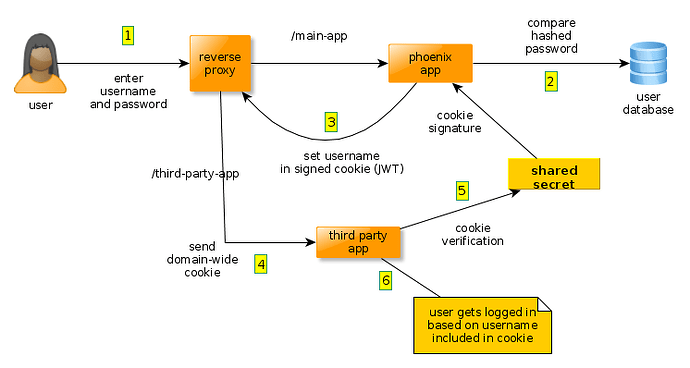 While it seems to be working, I'm not really happy with this solutions for a few reasons:
there are security concerns with using JWT for authentication which I don't fully understand
JWT wasn't designed for authentication in the first place, as mentioned several times in this forum by @OvermindDL1 and others
it bothers me to transfer information (the user id) that I don't really need to give to the user agent, even if it's a signed cookie that in theory cannot be tampered with (we all know that cryptography sometimes end up being broken)
Ideally, I'd like to share only a session id between both apps. The third party app would receive that session id via a cookie that can be shared between both apps since they're both on the same domain. The third party app would issue a request in the background to a protected endpoint of the phoenix app. That endpoint would return user information to the third party app, which would use that information to log the user in. Here is a diagram of the workflow I'm thinking of: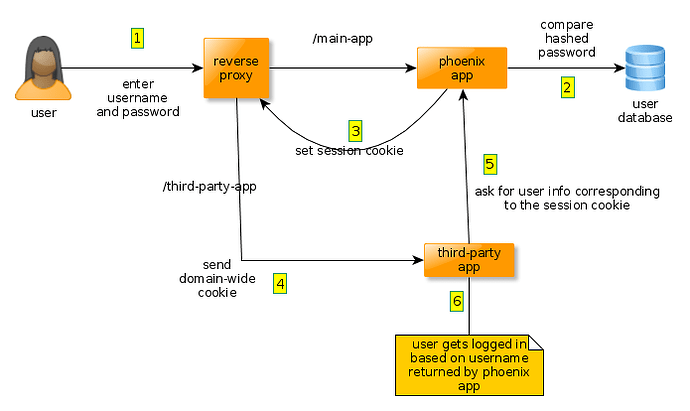 What do you think of this plan so far ?
I'm currently trying to implement something based on Phauxth, which seems to be simpler and easier to understand that Guardian. Now I'm trying to figure out I can implement the endpoint that takes a session cookie and returns user information. It seems to be a triple of dot-separated, base64-encoded strings, but not quite, as decoding its parts with Base.decode64/1 gives me an :error. Decoding it with GNU coreutils' base64 program gives me this:
tm
  _csrf_tokenmcopw6CzJhZ+ZoPsm6jW9Dw==mphauxth_session_idmF94xYayLj2Ff17Aiw4base64: invalid input

Once I'll have figured out the exact format of this cookie, I suppose I can retrieve the phauxth session and extract user info. So if you have more info about how the session cookie works, that would probably help me. I tried reading Plug's source code but got a bit lost.
Edit: I found that the ETS session storage allows to retrieve the session data easily given just the session ID. I understand the drawbacks of this storage and I'm thinking of implementing a custom session storage for my PostgreSQL database.