Hello, is it possible to use unique PID but show process in :observer applications window with some non-unique name?
For, example, I have this sup tree which is a bunch of GenStages:

Each one shows nicely with its own module name (since I set in start_link as name: MODULE).
Now I want to be able to create multiple of these GenStage pipelines, no worries, Registry to the rescue: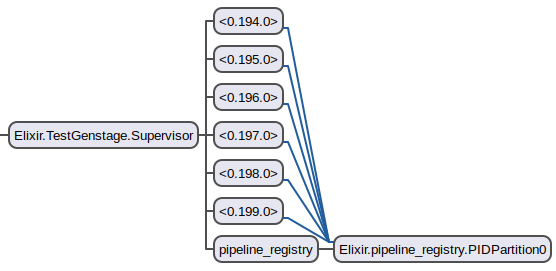 This works great, now each GenStage has a unique name so I can create the whole pipeline multiple times as needed.
But as a "side effect", it will show as it unique PID in :observer, so I cannot now easily identify which GenStage is each one of these processes.
I would like to be able to keep the names as shown in the first image but still use Registry.
Note 1: I only want to show the names as the first image to more easily identify which module each process is, I do not want to be able to access it with that name (for that I will use Registry). So it's not an issue if that name is not unique.
Note 2: I do not want to create a pool of one of the GenStage modules, I want to create a totally separated pipeline with the same GenStages multiple times.
Thanks!