Hello there,
Imagine you have many actors (which are not identified by name) behind a supervisor. If I wanted to have a facade to work with them so I can add some sort of messaging logic (i.e. round robin, hashing the sender, the message), would you add it on the supervisor or have another entity reify this behaviour and interact with them via Supervisor.wich_children? Is there even another pattern?
To put an example, lets play with coffee. Imagine I have many espresso machines in my shop and I'd like to expose this interface
Foo.order_latte(fake_bux)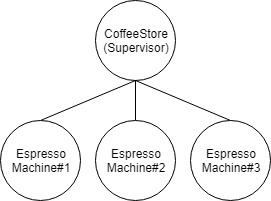 I'd only keep spawning and restarting logic on the Supervisor I'd love to hear what the more experienced guys has to say.