Hi all,
This is a zero dependency library that implements a NIF wrapper for a Binary Fuse Filter.
This library is available on GitHub and hex.pm.
Some may remember my previous NIF library, the exor_filter. This library is the successor. A Binary Fuse Filter is a probabilistic datastructure like bloom or xor filters, but they are smaller in size and faster to access.
Here is a small benchmark comparing access time against the xor_filter and a few bloom filters implemented in Erlang, Elixir and Rust. These results were measured using the exor_benchmark repo which has the results of the full benchmark.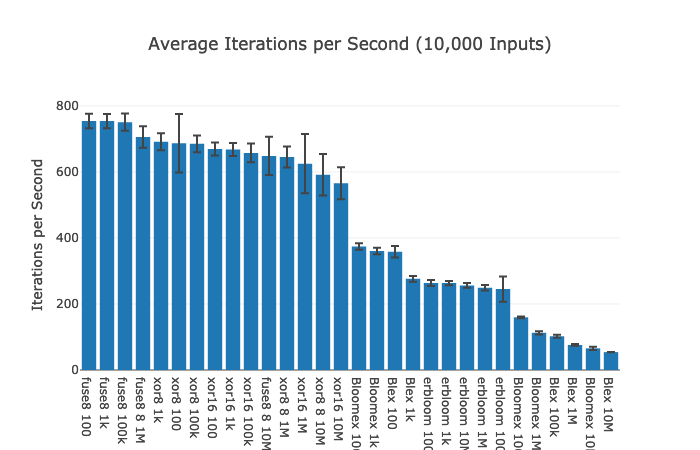 Features:
Serialization and Deserialization to binary, so it can be sent over the wire.
A dirty NIF API for large inputs.
Incremental initialization, items can be added over time. Once initialized, no more items can be added, Binary Fuse Filters are immutable.
Custom hashing. By default this uses erlang:phash2/1. Passing pre-hashed data is supported.
Here is a small example of how to use it:
filter = :fuse8.new(["cat", "dog", "mouse"]),
:true = :fuse8.contain(filter, "cat"),
:false = :fuse8.contain(filter, "goose").

Thanks for reading!