Trying to get rid of Dialyzer warnings on bootstrapped Phoenix application.
I've started writing my first serious Phoenix app which scratches one of our companies' own itches. Still feeling kind of overwhelmed since I haven't really learned a new language since I encountered Ruby some eight years ago. The performance is amazing though and the documentation and community are great for such a young ecosystem.
Hi! I have been learning elixir programming constructs thru online tutorials. Tried setting up a Phoenix API too.
I am currently working a new theme.
I am going to call it the Alchemist theme and it will be available for TextMate, Sublime Text, Vim and Emacs/Spacemacs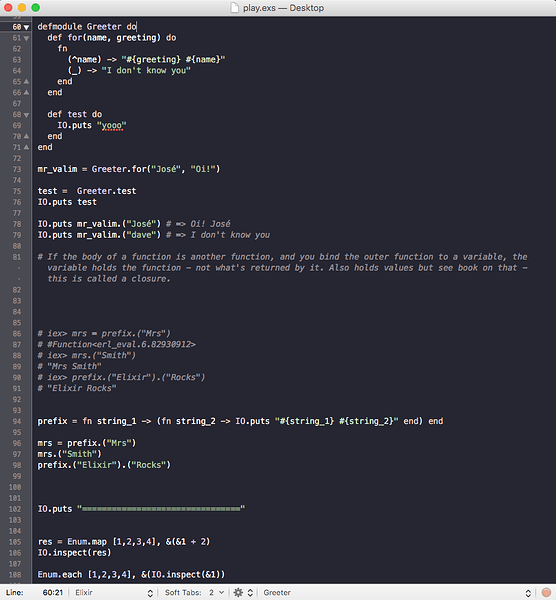 What do you think?
Edit: You can find it here: Introducing Elixify - a code editor theme for Elixir!
I figured out how to use GenServer to help me use the observer to find a problem in my code.
I'm waiting for my Pi3 and a nerves release supporting at least the basics such that I can experiment around with it. In the meantime I am planning around what to do with it.
Current plan:
Use as a security cam which can be turn on/off by me and my wife via gestures (and facerecognition) [Might take a long route, so for the start, just start with a web interaface ;)]
Room-climate-control (we already have a WiFi heating-vent, which we can only control via webinterface, but thats better than our son playing around and turning it on full in summer while putting it of in winter)
Looks good on the eyes. How is it goin' with this?
It's mostly finished and I've been using it for the last few days in TextMate (it's easier to make the theme for TextMate then port to the other editors than the other way around). I'll give it a few more days and if I think it's ok will start work on porting it over to Vim, Atom, Emacs, Sublime etc
It's actually changed a bit since that screen
Would be glad to take a look at it when it's ready :). Do you use emacs @AstonJ?
I use Vim… but have recently installed Spacemacs as I hear so many good things about it for Elixir dev

Which editor do you use? I'll let you know when its version is ready for a test drive if you like

Sure just give me a buzz if it's ready.


I usually use sublime text but have just started to look into vim. vim is great and I was hearing good things about emacs too with its evil mode. Then recently just read some articles about Spacemacs and Alchemist though haven't dived into it yet since I am still lacking time to freely explore it at the moment. How is Spacemacs then?
I figured out how to use GenServer to help me use the observer to find a problem in my code.
Awesome!!! I didn't thought about that!!
Look like I have plenty of emacsy thing to check in this thread. Cool!
I created my first Elixir thing :D. A phoenix web to show in as real time as I can the current position of the Buses in Gijón (my hometown). I am trying not to automate a deployment to production.
I have only been elixir-curious up until now. But I think I have a project that's a good fit for elixir and Phoenix. I may start prototyping it tomorrow. Almost certainly it will be elm on the front end.
I haven't used it enough to comment yet tbh, but so far I quite like it. What I don't like atm is that I can't use the usual OS X shortcuts that you can in other code editors, such as CMD / to comment out a line, or CMD ] to adjust tab spacing. Check out our Spacemacs thread

That sounds really cool!
Awesome, would be brill if you can post/document how you get on please Ryan.
@AstonJ, the thread is awesome! thanks for that

Past 20-30 days I've been working on vim plugin for Elixir alchemist.vim.
Ironically most of my time was spent on learning and coding vimscript

That's fantastic @slashmili

We have a Spacemacs-alchemist wiki here, would you be interested in helping us set up a Vim-alchemist wiki too? I think it could definitely be useful in helping onboard new users.
Vim is much simpler compare to all the keys you need to press in emac to get a job done
I suppose we can have a vim wiki and gather all the resources for vim users
Great, if you go ahead and start one in the #elixir-chat section I'll make it a wiki and add the relevant 'sticky' and 'wiki' tags for you. Perhaps look at the Spacemacs wiki to see what we might need to include?
I've been working on a CI system. https://github.com/rabbit-ci/rabbit-ci