After hearing @josevalim's keynote at ElixirConf, I got inspired to re-write our application's data-processing pipeline (which works OK but is pretty inefficient) to use GenStage. I initially imagined I'd build it doing something like this:
Here are the parts:
The StaleShardIDProducer periodically reads from an external datasource to see what shards are stale due to newly available data snapshots, and produces stale shard IDs.
The ShardWorker stages are producer-consumers that receive stale shard IDs from the StaleShardIDProducer and produce a list of sub-tasks that must be performed to finish building the shard.
The SubTaskWorker stages perform the sub-tasks, and send the results back to the ShardWorker to be injested into the shard. When all sub-tasks have completed, the built shard is persisted.
I got started prototyping this and quickly realized that there's a problem: when a producer-consumer (such as my ShardWorker) emits events from handle_events/3–as I was planning on having it do–that is treated as "finishing" the events it was given, and it will turn around and send more demand upstream even though it hasn't finished building the shard (it needs to wait for all subtasks to complete for that). That would have the effect of having it "move on" to the next shard when we really want to make it wait until the shard is complete before requesting a new one from the StaleShardIDProducer.
From my understanding of GenStage at the time, I couldn't figure out how to make this design work, so I tweaked it slightly: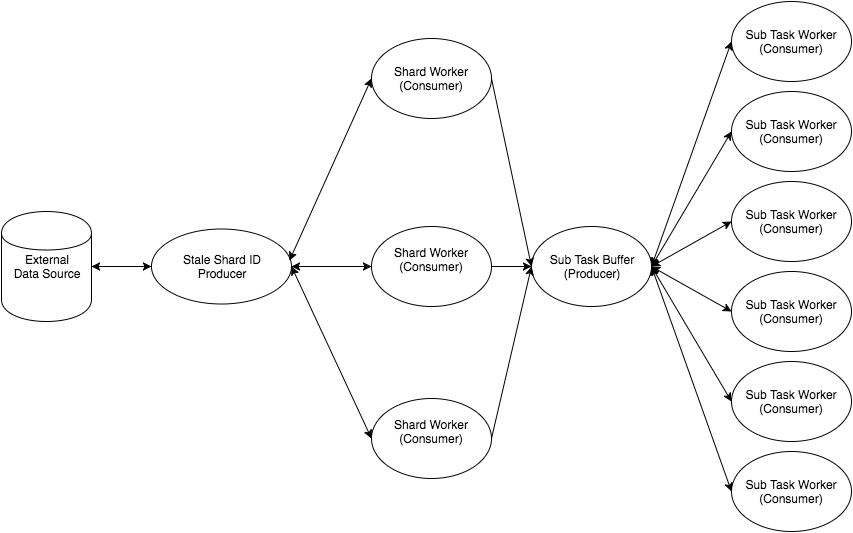 This design has a couple differences:
The ShardWorker stages are consumers, which allows them to wait to finish an event until all the sub tasks are complete and it can persist the shard.
There are actually two GenStage flows here instead of just one. The SubTaskBuffer is a new producer that the SubTaskWorker stages subscribe to. The ShardWorker stages send sub-tasks directly to the buffer so they will get worked on. Essentially, the SubTaskBuffer and SubTaskWorker stages form a worker pool with the buffer as the entry point for clients to send work to.
I prototyped this, got it working, and was pretty happy with it. I haven't gotten to implement a production version of this, though. And today I was re-reading the GenStage docs and noticed something I hadn't noticed before: the optional handle_subscribe/4 callback allows you to implement a :manual mode, where demand is not automatically sent upstream. Instead, you send demand upstream when appropriate by manually calling GenStage.ask/3. If I'm understanding this correctly, I think this means that my initial design is possible – I just have to make the ShardWorker stages implement :manual mode, where they only demand a new stale shard ID after finishing and persisting a shard.
So now I'm wondering which direction to go. What are the tradeoffs between these designs? I easily understand how the worker pool works (in fact, I've built a productionized version of it) but I'm a lot fuzzier on how things work when you have N consumers subscribed to M producers. I'm hoping @josevalim can weigh in with a recommendation :).